Description
Do or Drink Card Expansion pack #1
🎉 TAKE YOUR PARTY TO A WHOLE NEW LEVEL: This is the hilarious first expansion pack for Do or Drink. New Cards means New Dares and New Laughs to make your game last longer, and your party that much more legendary.

😛 PERFECT FOR PARTIES AND GAME NIGHTS – It's the most fun and savage party game. Awesome board card game to play with friends, office party, dinner, parties, etc

🙈 ADD TO THE FUN: The expansion includes 100 all-new, seriously depraved cards to add to your original set. Our new cards are as savage as ever.

👉 GET TO KNOW YOUR FRIENDS LIKE NEVER BEFORE: This expansion features more outrageous dares that defy all personal space.There are no "free skip" cards in this game – and let's be clear, doing these dares will completely ruin your reputation!

😬 NO BORING DARES: Our USA design team avoided 'dud dares' found on other card games. Instead they packed all 100 cards with dares as well as challenges that are fast paced and hilarious with every turn.

Fun Adult Games for Game Night
The card game will help you & your friends create some great memories! This party game is a great way to kick-start a friend's birthday or just an epic night. We have all kinds of cards to send your evening into full swing. We have the hottest dares, so your mates won't hesitate to have fun!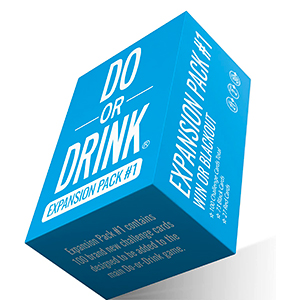 Laughter is the best medicine
Laughter is the best medicine & with our hilarious dares, you'll have a party everyone can laugh about for days to come! The cards are the funniest, most outrageous novelty card games anyone can play. They're fresh, original & include hundreds of fun & embarrassing dares & questions that everyone will love.